Schnitzel in Guinness Gravy and Crushed Potatoes
Change up your standard schnitty and vege with this Guinness gravy and crush potatoes
what you need
1 Three Aussie Farmers Lightly Seasoned Pork Schnitzel
6 small potatoes
1 Tbsp. chicken stock powder
500ml water
60ml olive oil
1 brown onion, minced
½ shallot, minced
2 Tbsp. vegetable oil
2 tsp. mustard
2 Tbsp. unsalted butter
3 Tbsp. flour
500ml Guinness
1 Tbsp. Worcestershire sauce
Salt and pepper, to taste
how to make it
Cook Pork Schnitzels according to pack instructions.
Combine chicken stock powder and water in a large saucepan and bring to the boil. Add potatoes and cook until soft.
Remove potatoes and place onto a baking tray. Crush with the bottom of a cup or mug. Brush with olive oil then season with salt and pepper. Place on the highest oven rack and set oven to grill at 200OC. Grill for 15 mins or until potatoes are golden and crispy.
In a fry-pan over med heat brown the onions and shallots in vegetable oil. Once browned add mustard, butter and flour. Stir constantly for approx. 1-2 mins so the flour doesn't burn and soaks up the liquid.
Reduce heat to low and pour in approx. 100mL of Guinness. Stir constantly until it forms a smooth thick paste. Continue adding the rest of the Guinness stirring continuously to work out any lumps of flour until it becomes bubbly and thickened to your liking.
Serve and enjoy!
TIPS
Try adding mushrooms to the sauce! Cook at the same time as the onions.
Experiment with the amount of flour you use. If you like a thinner gravy, use a little less flour.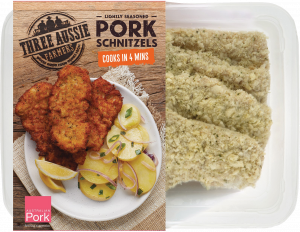 Three Aussie Farmers Pulled Pork
This schnitzel is made with a tender slice of Australian pork, and coated in fresh seasoned breadcrumbs. It's quick to cook and not a bad choice when you're flat out like a lizard drinking.